About the company

About the company
In 2002, the PAKON GROUP OF COMPANIES, in order to expand its capabilities in the production of complex aluminum and steel structures, acquired and put into operation a high-class PBT 25 Profilbiegetechnic machine (equipped with a PC 200 software control system) manufactured in Switzerland, which allows manufacturing bent elements of any complexity from system aluminum and steel profiles. Therefore, we consider 2002 to be the birthday of the RADIUS PRODUCTION COMPANY.

The Swiss company Profilbiegetechnic AG is a recognized world leader in the production of bending machines, so we purchased equipment from this company. The purchased PBT 25 bending machine is the best bending machine in its class. Thanks to the modular structure, it is easily reconfigured to new technological operations. Three rollers have their own drive, so you can easily bend profiles of significant cross-section on the machine. The dimensions of the rollers allow high-precision deflection of profiles up to 300 mm high. The capabilities of the equipment allow bending along several radii, in particular, making a smooth transition from an arc with a given radius to a straight line, or approximating an ellipse.

In 2006, our company developed the technology and launched the production of bending aluminum crossbar profiles in two planes - for the structures of translucent domes. Currently, we are the only company in Russia that can do this.

After eight years of improving our work, gaining a good reputation by our company, and due to the increased volume of work, in 2011 our company acquired a second PBT 25 Profilbiegetechnic machine equipped with a modern PC 300 software control system with graphical representation.

Machine operators have completed special training courses. The regularly replenished fleet of rollers and additional equipment allows you to constantly expand the possibilities, increasing the list of processed profiles and profile systems.

Our own technological developments have made it possible to significantly reduce the minimum deflection radii in relation to those declared by the manufacturers of most profile systems.

We are guided by the rule: "the presence of a corrugation is a failure to fulfill an order," so the percentage of marriage is reduced to zero.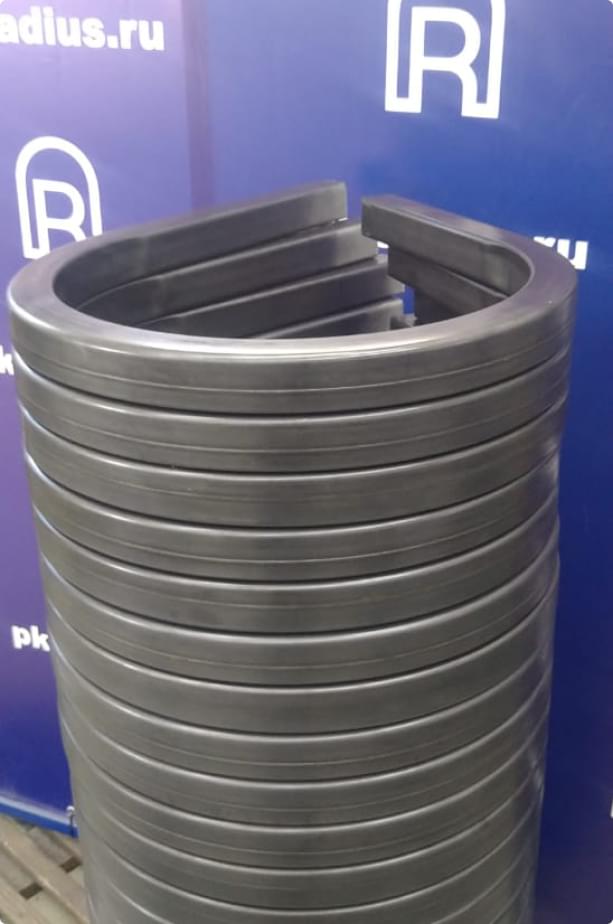 Currently, we are bending profiles of almost all common aluminum profile systems: Schieso, Reynaers, AGS, ALMO, New Tec, Realit, Tatprof, Alutech, VSMPO, SIAL; steel profile systems Jansen, Forster, FERRO-WIC, as well as various profiles of the standard assortment.

PC Radius today, by all parameters, is the leader of the Russian market of services for bending system profiles for translucent structures.